Over 35 Years of Experience
CALL US NOW FOR MORE INFORMATION!
Welcome to creekside painting
With over 35 years of experience, Creekside Painting / Contracting LLC provides professional interior, exterior painting, and pressure washing services to Clark, Skamania and Cowlitz Counties.
We have the tools, knowledge and the experience needed to complete any job, big or small. We provide painting services for both residential and commercial properties and always pay very close attention to detail on all of our jobs.
Customer Service, Quality products, & Competitive prices are our priority! Serving Clark, Cowlitz and Skamania Counties.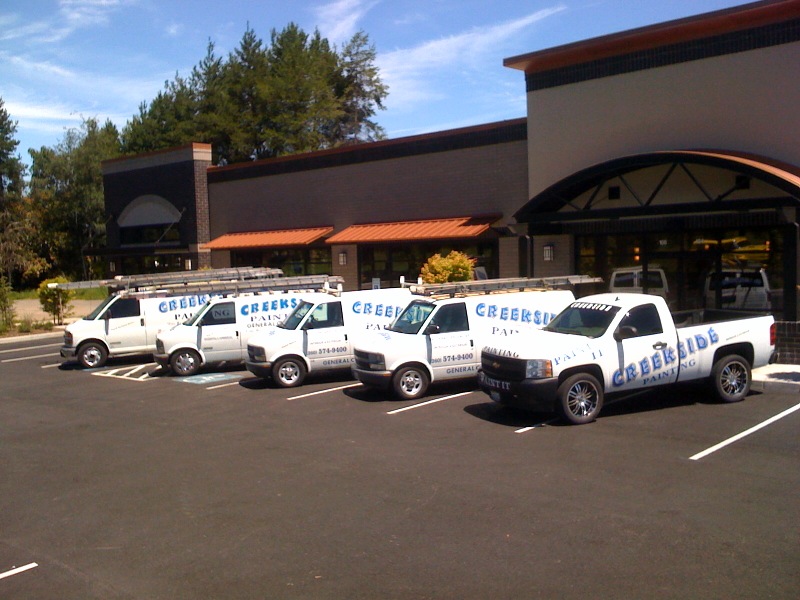 What We Do
Interior & Exterior Painting
Residential & Commercial Painting
Sheet Rock Touch-ups
Brush, Roll or Spray
Pressure Wash Structures Like Siding, Roofs, Decks and Concrete
And More!
What We Value
Fair and Affordable Prices
Courteous and Professional Service
Excellent Workmanship
Quality Paints and Supplies
What We Offer
Fast, Friendly Services
Winter & Spring Discounts
Senior Citizens Discounts
Military Discounts
Warranties Available
"As a recent customer of Creekside LLC we would like to say we are extremely satisfied in our entire experience with Nick Springer and his painting specialists. Nick has been good to his word in every detail of the job and the painting crew is professional in every aspect as well as extremely responsive to our every wish and desire. We have many plants around and against our home and the crew was very careful in covering and protection them. To the point that not a single flower was damaged. And the finished paint job is wonderful! We are so pleased with how beautiful our home looks. It looks brand new again! We are sure when you choose Creekside to renew home, that you will have a truly wonderful experience."
"It is with great pleasure that we write this reference. We contracted with Nick Springer to paint the interior of our Vancouver home this Spring. He and his crew came one day and by the end of the 2nd day had transformed the inside of our house. The painter were neat and took great care of our belongings. Furniture and carpeting were covered. There were no spatters or spills. When the crew left at the end of the 2nd day, they left the house as they had found it, with the exception of the beautiful new walls. Nick supported my choice of wall colors, giving constructive advice which was both appropriate and useful. Since I was using some rather strong colors with white trim and ceilings, it was important that corners were sharp and not sloppy. The arches between rooms are rounded and the transition in paint colors is excellent. I look forward to Nick painting the exterior of our home.
Call us for more information